Merle & Claudia Wiens – TANZANIA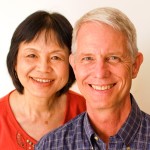 Location: Tanzania (population: 45,000,000)
E-mail: Claudia.Wiens@efca.org
Tanzania is one of the world's poorest nations. Yet it remains an "island of peace" amid many troubled nations. Evangelical Christians make up about 18% of the population.  All Christian denominations including the Roman Catholic Church total 54% of the population.  Muslims are 31% of the population. There is religious freedom; all major faiths have the ability to share and propagate their faith.
Merle Wiens is the Africa Area Director for ReachGlobal (the mission arm of the Evangelical Free Church of America). He is the main liaison between the ReachGlobal home office in Minneapolis and the Africa Area Office (AAO).
Merle implements ReachGlobal's goals of church planting and leadership development.  Travel is a big feature in Merle's job! Claudia works part-time in the AAO and is also involved in a Bible-study group with some college girls, a Moms in Touch group, neighborhood evangelism and hospitality for the many visitors who pass through Nairobi. She also teaches Sunday School. In addition Claudia organizes English Language Camps in the summers and invites short-term teams to come to serve in these camps which are very popular among the people of Tanzania.