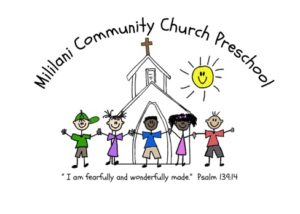 Now accepting applications for our 2019-2020 School Year!
See our Student Application tab below
Tuition & More Information
Our Tuition Rates are current and reflect the upcoming school year. Rates are subject to change.
Please read our Tuition Payment Policy, regarding tuition and fees
Tuition and Fees Payment Policy
Our brochure is a printable version that includes our Philosophy, Tuition Rates, Policies etc ...
Student Application
If you interested in applying for your child to enroll with our preschool, please fill out the student application below.
Applications may be filled out and mailed or dropped off at the preschool during office hours.
Student applications must be accompanied by the $25 application fee.
Applications without the $25 application fee will not be processed.
Mail to:
95-1100 Kaapeha St. Mililani, HI 96789
Office Hours: 
Monday - Friday : 8:00am - 4:00pm
If you are interested in setting up an appointment for a tour of our preschool please call 808-200-7186, during office hours
Students for 2018-2019 School Year
For the current students already accepted and enrolled in the 2018-2019 school year.
Please print and fill out the forms below.
If you are new student please fill out forms numbered 1 thru 9
If you are a student continuing from Summer session or 2017-2018 school year, please fill out forms numbered 1 thru 4  and 8, 9 
For your information everyone please also print the following forms numbered 10 thru 13
Read: 2018-2019 SY Registration Letter
Parent Acknowledgment

(will be given during orientation)